OUR MODEL. YOUR SUCCESS.
We help organizations create strategy, develop leaders, and succeed through the power of teamwork. Hundreds of companies have used our Stretch model, curated with best practices to integrate leadership development and strategy.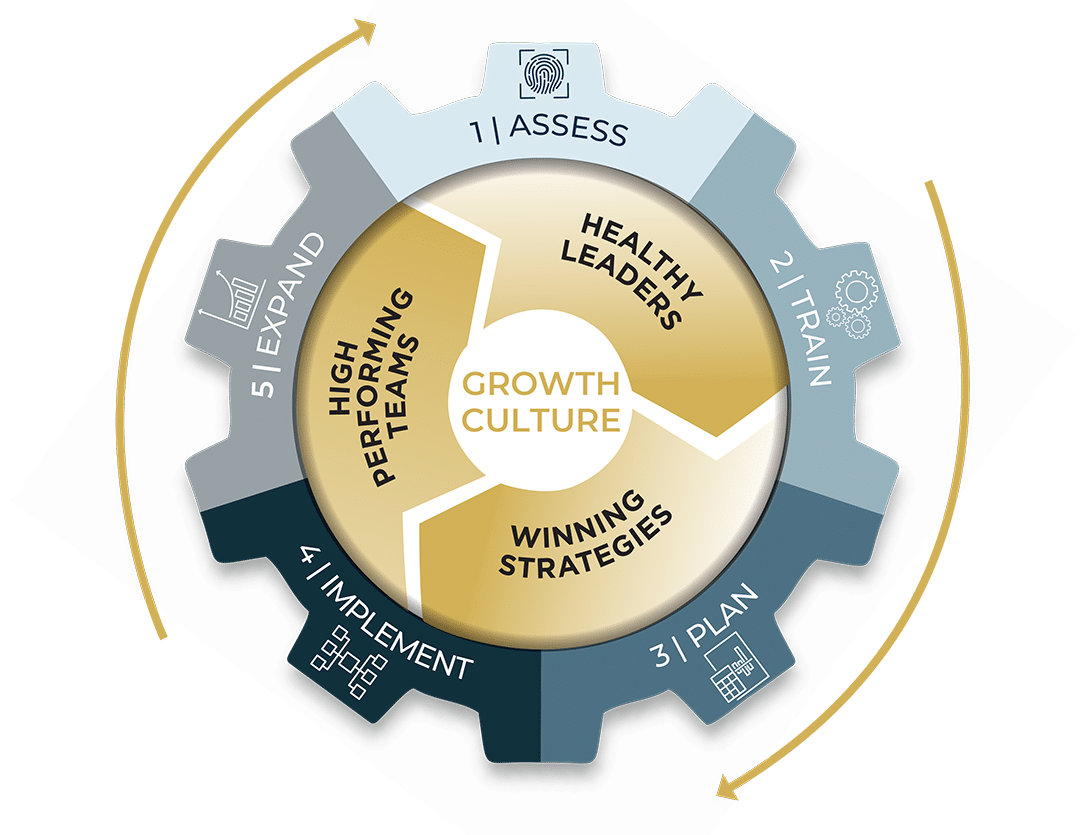 PHASE 1 :
ASSESS
You need to establish your company's starting point, so the first step begins with assessing both the culture and the process. The "How" Is Just as Important as the "What."
These assessments help define who you are and where you need to go.  Wherever you're currently operating, we make sure you have the right people in the right places. Together, we plot the course toward higher achievement and build a competitive advantage to help achieve your sustainability and growth goals.
Explore and assess current culture and leadership health

Perform individual Birkman* Assessments on team members

Stretch Strategic Assessment

Financial Performance Analysis

Collect and assess all data to inform action
* The Birkman Method is a scientifically-developed, multi-dimensional assessment designed to help you achieve more at work and at home. This personality assessment improves people skills and aligns roles and relationships for maximum productivity and success.
PHASE 2 :
TRAIN
Our leadership development and training make strategy personal. First, we work with individuals to ensure they are strategically placed for maximum productivity both professionally and personally. Then, we work on communication styles and culture development to create an environment where everyone can succeed. By engaging leadership and employees in the process (and teaching them the tools), everyone increases their strategic competency.
Map out a plan using the discovery data and identify training opportunities for leadership with roles identified

Culture and Leadership Training

Basic Operational Dashboard

Strategic Planning training and tools

Meeting optimization
PHASE 3 :
PLAN
Developing the plan is an activity that needs continuous revisiting to be successful, and our process does just that. Once we create a tailored strategic plan, we work alongside you to gain alignment across the organization. Only 11% of managers believe their company's strategic priorities have the financial and human resources needed for success (HBR 2015). Our Stretch model and tools ensure your plan is designed for success.
3-5 year Stakeholder Objectives

Vision Framework (core values, purpose, vision)

Strategic plan summary with key investment decisions

Strategic Priority and Implementation Plans

Strategic Scorecard and Communication Plan

Develop key performance indicators and a strategic scorecard to calculate the plan's success
PHASE 4 :
IMPLEMENT
Having an effective strategic plan is only one step in the process. We don't guide you through formulating the plan then leave you to execute it; we work with you to implement the strategy.
Our vision is to have 100% strategic implementation by our clients, and we don't stop there. We believe adapting your organizational structure follows strategy, and this is a critical step to a successful implementation. We work with most clients for at least 12 months to implement the updated structure while monitoring and assessing the strategic planning process. Here are a few of our offerings:
Leadership and Strategic Coaching

Metrics Reporting

Scorecard Analysis

Organizational Structure

Role Clarity and KPI

Facilitated Monthly Priority meeting and Quarterly Reviews

Routine leadership Meetings

Annual Strategic Plan Updates

Leadership Development program

Certified Strategy in Motion Strategic Planner Training Program
These areas are critical success factors during the implementation and assessment process. Our role is to be as active (or inactive) as you wish. By facilitating, providing direction, and sharing our tools to enhance the accountability for execution, we help manage your team and encourage accountability for success.
Studies show leadership teams spend less than 5% of their time on strategy. Successful organizations devote 20% of their time to strategy – it is critical to develop capacity and build your bench. Once your strategy is in place, the next step is allocating resources so you can spend the necessary 20% to execute.
PHASE 5 :
EXPAND
Leadership meeting optimization

Engaged employees

Better hires

A positive and productive culture

Strong leadership

Clear vision and strategy

Strategy implementation

Doubled strategic and leadership capacity

Tangible results
LET'S WORK TOGETHER
Please fill out the form below to get in touch.
TAP INTO STRETCH'S EXPERTISE
Take your organization to the next level.