STRATEGY + LEADERSHIP DEVELOPMENT
High-performance teams require strategy AND holistic leadership. Stretch Academy equips leaders with both.
HOW IT WORKS:
Submit a $250 deposit (only one deposit needed per company).
We'll follow up with a full invoice within 3 business days.
Get ready to see your leaders thrive and operate more strategically.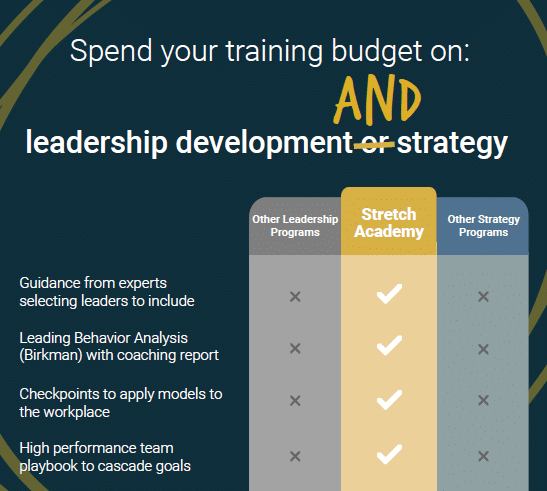 UNDERSTAND SELF
Develop self-awareness of behavioral characteristics and how they can affect the way they lead and communicate.
UNDERSTAND OTHERS
Employ strategies to break down miscommunications and maximize team members' effectiveness and productivity.
PERSONAL STRATEGIC PLAN
Employ leadership strategies based on your personal core values, goals, and aspirations to ensure sustainable success.
STRATEGY IN MOTION™
The program is based on Darcy's book, Strategy in Motion™: A Proven Playbook for Companies Who Win. Apply the Strategy in Motion™ model to your team to define and implement your department's strategic plan.
DEPT STRATEGIC PLAN
Establish your team vision, SWOT, goals and priorities to maximize the effectiveness of your team.
TEAM DYNAMICS
Activate strategies and frameworks proven to maximize team efficiency and performance as well as team member engagement & fulfillment.
GREAT COMMUNICATION
Utilize specific communication methods that allow teams to move to output in a more productive and timely manner.
CHANGE MANAGEMENT
Facilitate your team through a successful change process.
MAXIMIZING PEOPLE
Improve individual contributors' performance toward reaching team goals.
BEST FOR
Executives, Directors, and VPs who are leading critical teams.
FORMAT
In-person sessions at 9AM-4PM.
DURATION
6 days over 5 months.
MODEL
Taught by original content owners and leadership experts.
CLASS SIZE
 Executive coach-to-participants ratio: 1:10.
PRICE
 $4,000 per participant. Call for private sessions.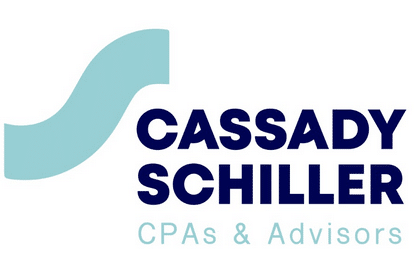 DON'T JUST TAKE OUR WORD FOR IT.
HEAR FROM LEADERS LIKE YOU.
STRETCH ACADEMY
SESSION SCHEDULE
Session 1

Understand Self & Birkman    

Sept 13 in-person (9AM-5PM)

Session 2

Understand Self & Lead Others

Sept 14 in-person (9AM-4PM)

Session 3

Personal Strategic Plan & Leadership Playbook

Oct 5 in-person (9AM-4PM)

Session 4  

Team Dynamics & Great Communication


Oct 26 in-person (9AM-4PM)

Session 5

Strategy in Motion & Department Strategic Plan


Nov 9 in-person (9AM-4PM)

Session 6

Change Management & Maximize People

Nov 30 in-person (9AM-4PM)
TAP INTO STRETCH'S EXPERTISE
Take your organization to the next level.