Cyndi and I have been talking about Purpose a lot over the past few months. Purpose is "the Why," Vision is the "the Desired State," and mission is "the What and For Whom." People and organizations often overlook the power of Purpose.
I recently launched my book, Strategy in Motion: A Proven Playbook for Companies who Win, and have been a bit challenged for the true "why" I wrote it. My dad played a big part, but not for all the reasons you might think.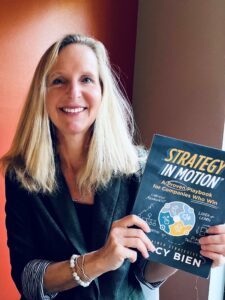 The book supports my purpose: To Build People Up According to their Needs (my version of Ephesians 4:25)

The goal of the book is to provide an accessible, fun, and interesting view of strategy to "build" people up and stretch leadership teams and organizations, so they embark on the strategic planning journey. My belief is if you understand why and how to do something, then you will push through the uncomfortable parts to be in a better place.
Many leaders sacrifice too much while brute-force growing their company

I believe strategy is how successful leaders grow organizations so they can enjoy their life. This means not feeling stressed because you alone are carrying the load of the company, at the expense of your personal well-being.  Many leaders sacrifice too much – my dad was no exception.
I believe in "stretching" people and organizations to be more than they thought possible
This starts with "Challenging the Status Quo," one of the core values.The Strategy in Motion™ process starts with "Listening and Learning" to determine if the way we have "always" done it is truly the best way as our reality shifts. Then, developing the strategic plan with a shared "vision" for a company (or a team) is extremely powerful.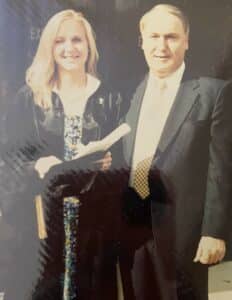 My dad was a catalyst who stretched and challenged me in many ways. He always asked me the same question, "Have you written anything yet?" As an entrepreneur, he would remind me he was "successfully unemployed" because he worked for himself. Though he had great ideas, passion, and charisma, he was never able to successfully scale a company.  My dad lacked a "sherpa" and sacrificed everything – including his family. Strategic planning would have helped him enormously.
The rest of the story: for my dad and many leaders, their relationships are collateral damage
My parents divorced after a 10-year marriage when I was two years old.  Dad was on his second or third business, and, unfortunately, his purpose did not include "family provider."  Personally, my relationship with my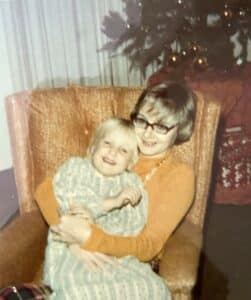 dad was one-sided when he was available.  My mom, the unsung hero in my life, taught me a solid work ethic and tenacity.
The true "why" of my book is to support what Cyndi and I want for our leaders: to Enjoy Leading!

We want you to share the stress, go on family vacations, coach a soccer team, and stay healthy. You don't have to "give up everything" to successfully grow a company. You do have to engage key people in the strategy, invest in your leadership team, and lastly, commit to a process, not a plan.
During the past 25 years of working with growth-oriented organizations, I have helped leaders successfully grow their companies by asking them to let go and invite others help them. Yes, this can be scary. Yes, this involves humility and vulnerability. And, most importantly, yes, it's worth it!
.