Why do so many Companies Fail at Strategy?
Statistics have proven – over and over – that 67% of companies fail at strategy. That's a "D" people!
Strategic Planning is worth it!
Over the past 25 years I have experienced many companies with baggage from their "last" Strategic Planning session. There is frustration because many believe it was wasted effort with little impact.  My belief is working on your strategy is always worth it.
Three intangible benefits many companies overlook.
There is a huge team development benefit to discuss the company's future.
Alignment is improved because the company makes key decisions.
Most are more successful than they think, they just need to review the plan to recognize it.
The reality I tell my clients is this, "Planning is the easy part. Implementation is hard!"  The key is to not get stuck.
For those who know me, I do not like to fail. Over the past 20 years, I have supported more than 380 companies using my Strategy in Motion™  process. Once the plan is finished, I have worked with many of them to achieve solid, strategic implementation and communication plans. We measure the implementation rate of our clients, and our implementation rate is more than double the industry standard. 
It's not about a "Perfect" plan.  It's about Great Execution.
As a team works through the strategic process, many realize they are missing key competencies. The goal is not to get stuck and to move forward!  All experts agree that the competitive advantage is to be great at execution.  As the team expands and gains momentum, the strategy becomes clearer and more aligned.
Three reasons our clients are successful at implementing their strategy.
They invest in the Right people in the Right Seats. As companies grow, their leaders wear quite a few hats.  There comes a time when specialization becomes important.  CEOs are challenged to build the business case which means you should consider "opportunity" cost if you don't bring them on board.  It's one thing to fit the jigsaw pieces of your teams together, but it's another to realize that some pieces may be missing. Many companies wait too long to hire key people.  From my experience there are three main gaps as companies grow:
Talent Leader: Your infrastructure and your people need investment. People need to know they are an "asset," not a "liability." There are a couple of critical hires to consider. One I prioritize above the rest is a Talent Leader or CPO (Chief People Officer).
Marketing Expert. In today's digital world, we have an incredible amount of information and tools for marketing communications (MARCOM) well. Indeed, your competitive advantage comes from marketing doing what it's there for — understanding the market and communicating the unique value you bring to customers and, don't forget about employees 😊
IT/Technology Owner. Understanding data and building dashboards, not just collecting. Data-Analytics is its own skill set. Utilizing technology is an accelerator, but only when you are truly "utilizing" the software and platforms you have invested in.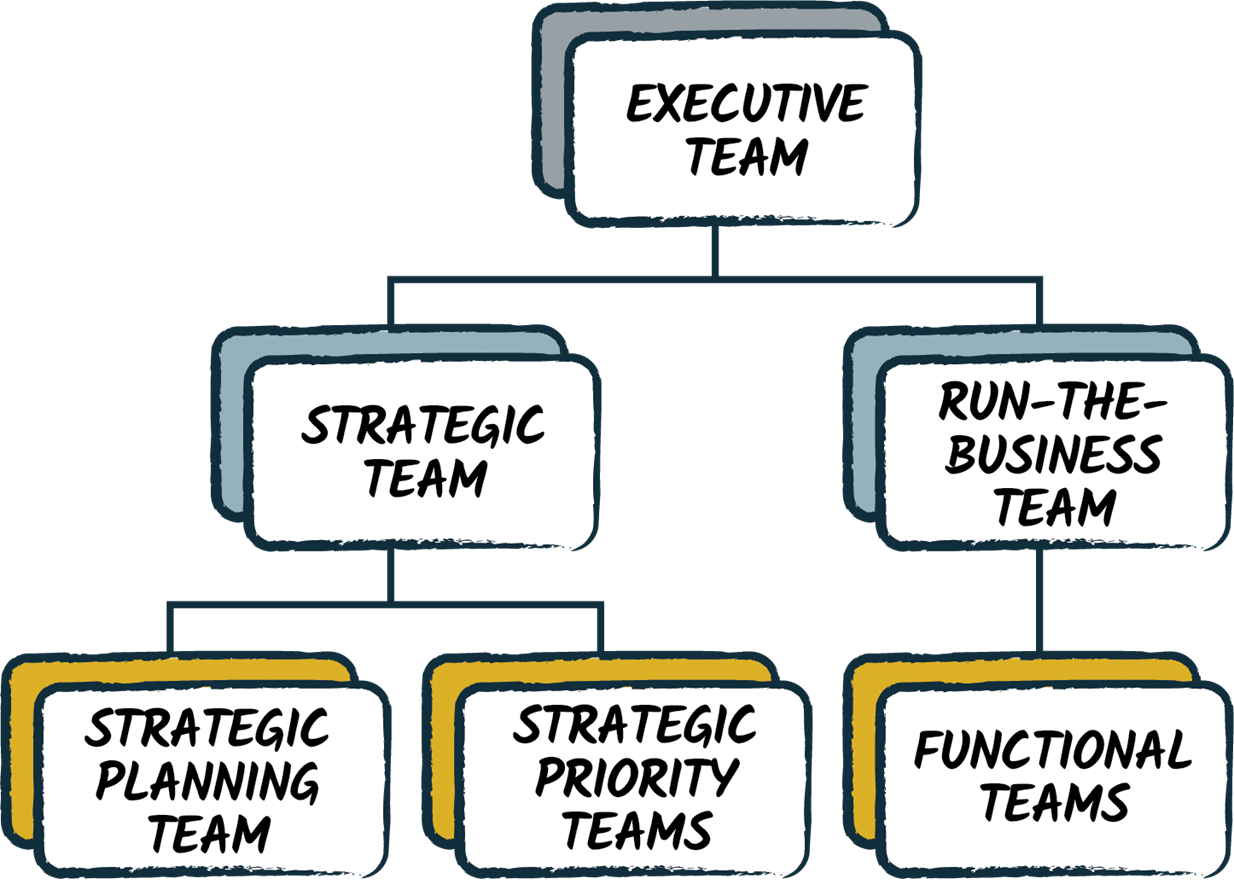 They have a Strategy Team that meets regularly to review progress. Less than 15% of companies track strategic outcomes to monthly actuals. Download our free tool, the Strategic Team Charter. Monthly and quarterly meetings focused only on strategy ensure goals for each team are met and to course correct as needed.  I also highly recommend a "process owner" for strategy to help keep the focus.  If not, you will always be pulled toward operations. The annual meeting revisits the overall strategic plan and sets goals and priorities for the following year.
They focus on communication and utilize many channels. Fewer than 5% of front line employees know their organization's strategy. Internal communication is a critical part of the strategic roll-out and engagement process. Get support from your marketing team (or hire a marketing agency) to develop your strategic communication plan. Develop a broad and deep plan, so all employees understand their role to deliver the strategic plan.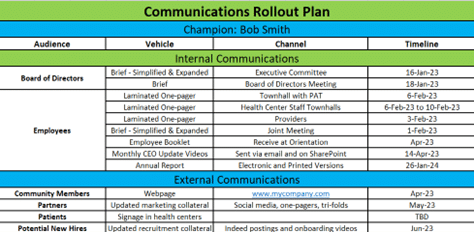 Hope is NOT a Strategy.
Strategic planning is absolutely worth it! Hope is not a strategy and change is inevitable. Companies that proactively manage change will outperform others.  A.G. Lafley reminds us, "Running a company without a strategy, is reckless."   We can all point to successful long-term companies who have invested in strategy.