Do you remember Nike's "Find Your Greatness" campaign? It's beyond brilliant.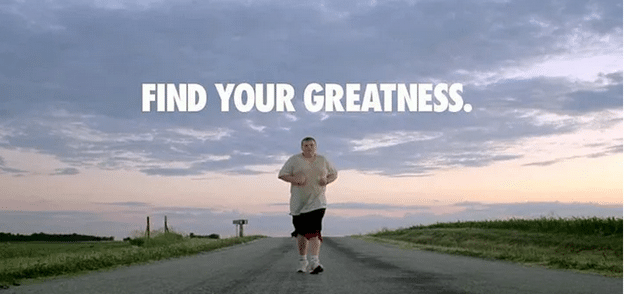 One ad features a young boy running on a country road. His pace is far from record breaking, in fact, he's barely jogging as the voiceover delivers a powerful message, "Greatness is not more unique to us than breathing. We're all capable of it. All of us."
"Find Your Greatness" reminds us that greatness is accessible and universal.
Few taglines express a brand's purpose as powerfully as "Just Do It." We understand it is our actions (or rather, inaction) that hold us back from achieving our goals. What an irresistible call to action Nike created with "Just Do it!"
When we founded Stretch in 2019, our Purpose was immediately clear: To help companies and leaders S-T-R-E-T-C-H to the next level of growth – in other words, to find their greatness. We love helping people become the best version of themselves AND coaching them to bring out greatness in others.
We want you to love your job and Find Your Greatness – so we created Stretch Academy.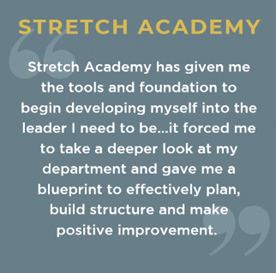 Here's a truth bomb for you: There is a critical need for managers to become better leaders. Face it, we ask managers to do a lot – increase productivity, complete strategic projects, and perform their job efficiently. As a result, they are burned-out, frustrated, and feel they don't have buy-in from senior leadership or a "seat at the table." So, what do they need? They need investment with a deeper toolbox and personalized coaching.
In a recent survey of business leaders around the world, only half said their organizations are prepared for the future. One of the ten most important shifts businesses are grappling with is Leadership that is self-aware and inspiring. Only 25% of respondents said their organizations' leaders are engaged, passionate, and inspire employees to the best-possible extent. We believe self-awareness starts with a Personal Strategic Plan and continues with a Team Strategic Plan. These are the "critical" tools leaders need to be successful, and we focus on these in our Strategy Academy program.
Become the best version of yourself at work and at home.
Positive culture trickles from the top down, and healthy leaders inspire their teams to find their greatness, communicate effectively, and operate more strategically.
Stretch Academy is a six-session in-person training for STRATEGY + LEADERSHIP DEVELOPMENT. Our next training starts September 13. Download the full schedule of dates here. If you save your seat by July 31, you'll receive your Birkman Assessment along with a free 30-minute coaching session with Darcy or Cyndi.
Ready to step boldly into your greatness? Then just do it!